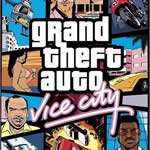 Grand Theft Auto: Vice City
All trademarks belong to their respective owners.
Grand Theft Auto: Vice City review
Missing GTA Vice City Stories This GTA game is pretty cool but I really feel like we are missing GTA Vice City Stories. I really would like if you added GTA Vice City Stories on mobile because I think GTA Vice City Stories was a great game with the story and the side missions such as taking over the gang business structures. I even finished GTA Vice City Stories and it was pretty good. I've noticed you've added GTA Liberty City Stories to mobile but I just don't like it. I've played it and it simply doesn't feel the same. It does have cool features but I don't like the story. I would absolutely love if you added GTA Vice City Stories. GTA Vice City Stories has a 16th anniversary right now. Vice City Lives On! Great port to mobile! My only gripe is I had a glitch after completing 30% of the game. For some reason the controls wouldn't switch to regular walking mode after going to the hardware store. The controls were fine when driving cars but when walking it only had the left and right arrows and the purchase button. Nothing I could to would revert away from the store purchase mode. I tried dying, killing the hardware guy, buying from other stores, loading previously saved games, offloading the game and re downloading, and it still wouldn't go back to normal. I eventually just straight up deleted everything and reinstalled and of course that worked. I made the mistake of not saving my game to the cloud slot otherwise I'd be good. So if this happens to you, save your game to the cloud slot, delete everything, and reinstall. Also save very frequently just in case. The other thing I wanted to ask that would make the game greater would be a dual analog option. That would be nice for driving so you can control your speed and braking much better. Maybe I am the only one that wants this? I just think it would make it better. Worth the money!
Pretty solid and just like I remembered! It's April 12th, 2018 and with only about 2 hours of game time, I'd have to say that I'm pleased with the game. I've read of some freezing and so far the only "freezing" that happens is if I go to the options menu for more than 10 seconds, upon going back into the game it'll take about 5 to 10 seconds to refresh and continue playing without any jumping after 10 more seconds. It's pretty solid now. Fun game, just as I remember it being. The controls are surprisingly simple and mostly easy to use. You can even change the controls in the settings, to include button placement completely customizable with an ability to resize any control button. My only suggestion would be to immerse yourself into the game for a while at a time to prevent possible permanent freezing when going back into the game. I did so probably 5 times and the last time I did so, checking a message on my phone, going back into the game it froze completely. Other than that, it's a great game! Enjoy!

Welcome back to Vice City. Welcome back to the 1980s. From the decade of big hair, excess and pastel suits comes a story of one man's rise to the top of the criminal pile. Vice City, a huge urban sprawl ranging from the beach to the swamps and the glitz to the ghetto, was one of the most varied, complete and alive digital cities ever created. Combining open-world gameplay with a character driven narrative, you arrive in a town brimming with delights and degradation and given the opportunity to take it over as you choose. To celebrate its 10 year anniversary, Rockstar Games brings Grand Theft Auto: Vice City to mobile devices with high-resolution graphics, updated controls and a host of new features including: • Beautifully updated graphics, character models and lighting effects • New, precisely tailored firing and targeting options • Custom controls with a fully customizable layout • Massive campaign with countless hours of gameplay • Compatible with the MoGa Wireless Game Controller and select USB gamepads • Integrated with Immersion tactile effects • Tailor your visual experience with adjustable graphic settings Languages Supported: English, French, Italian, German, Spanish, Korean, Russian, and Japanese. Grand Theft Auto: Vice City is now available on: Android Phones: Motorola Atrix, Motorola Atrix HD, Motorola Atrix 4G, Motorola Photon, HTC Rezound, HTC One X, HTC One X+, Samsung Galaxy Nexus, Samsung Galaxy Note, Samsung Galaxy Note 2, Samsung Galaxy R, Samsung Epic 4G, Samsung Galaxy S2, Samsung Galaxy S3, Google Nexus 4, Sony Xperia Play, Sony Xperia Sola, Sony Xperia S / P / T & TL, Sony Walkman Z Series Media Player Android Tablets: Acer Iconia, Asus Eee Pad Transformer Prime, Asus Transformer Pad TF300T, Asus Transformer Pad Infinity 700, Motorola Xoom, Samsung Galaxy Tab 7.0 / 7.7 / 8.9 & 10.1, Samsung Galaxy Note 10.1, Sony Tablet S, Sony Tablet P, Sony Xperia Tablet S, Toshiba Thrive, Toshiba Regza, Google Nexus 7, Google Nexus 10, Fujitsu Stylistic 10.1 **Grand Theft Auto: Vice City was developed and tested only on these devices. If your device is not listed, please check support.rockstargames.com for any updates to this list** For optimal performance, we recommend re-booting your device after downloading and closing other applications when playing Grand Theft Auto: Vice City. Please ensure you have at least 1.5 GB of free space before installing Grand Theft Auto: Vice City.